Pigment Dispersions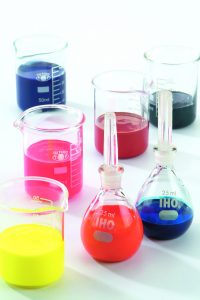 Are you tired of dry pigments or being tormented with dust pollution and poor dispersion? Colorwen has several options for you:
Pigment Flush – Contains 50% low molecular weight polyethylene wax and 50% organic pigment. The physical form can be either a random granular or a uniform ground powder.  Both forms conform to OSHA and government environmental regulations.
Water-Based Pigment Dispersions – We offer two types of water-based dispersions.

Acrylic Based CFX Series for Flexographics printing market
Surfactant Based PRC Series for Textile printing market

Polyurethane Pigment Dispersions – We supply high quality pigment dispersions in Polyether Polyol for use in the color urethane foam, automobile cushions, soles, sporting good, and etc.
---

Contact Us About Pigment Dispersions Today